Standard Itinerary
(Monday through Friday departures available. Guides will modify each trip based on guest preferences and mountain conditions)
DAY ONE
8 a.m. Check in at our Willow Creek Horseback Rides location (9500 S. Bryan Flats Rd, Jackson, WY)
9 a.m. Drive from Willow Creek to Granite Creek trailhead (30 minute drive)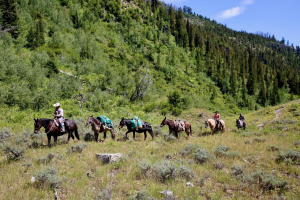 10:30 a.m. After loading gear and becoming familiar with your horse, group departs trailhead on horseback for base camp (total ride is approximately 3 hours divided in two 1.5 hour ride segments)
NOON:  Arrive at Granite Creek for a sack lunch and to stretch the legs a bit!
1 p.m. Continue the ride to camp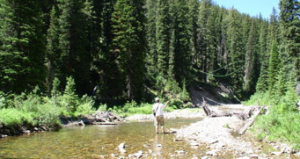 2.30 p.m. Arrive at base camp, get settled into your wall tent and decide what you'd like to do with your afternoon. You can fish the stream near camp, check out the fishing at the beaver ponds, explore the area on foot, or simply relax and enjoy the solitude, sights and sounds that can only be had in the backcountry of Wyoming. Wildlife is plentiful and right there for you to see on a regular basis!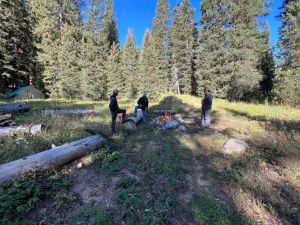 7 p.m. Dinner is served! Your camp cook prepares traditional cowboy meals on-site, which you may enjoy in the dining tent or by the campfire. After dinner,  roast marshmallows over the campfire and making smores (because is it actually camping if you don't eat smores?).
Retire to your tent whenever you'd like; there is no "lights out" time, but experience tells us you'll be ready for a good nights sleep!
DAY TWO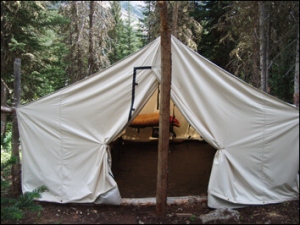 Morning: Although there is no wake-up call, the 6 a.m. summer sunrise and activity in camp will likely get you moving even if you usually sleep in. Early mornings in the wilderness are magical! Don't be surprised to wake up to a moose meandering through camp or find deer peeking at you through the trees.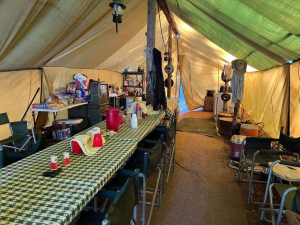 When you're ready for breakfast, the camp cook will have your meal ready in the dining tent. After breakfast, guests are free to take a short hike, hit the stream & beaver ponds for some morning fishing, or just relax before departing camp.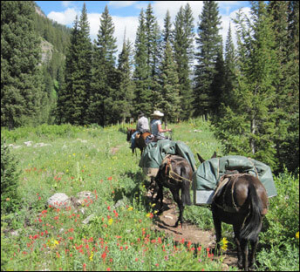 10:30 a.m. Saddle up the horses, load your gear on the pack mules. and leave your campground home.  As we did on the way in, the 3 hour ride will include a mid-point lunch and leg-stretching stop.
3 p.m. Arrive at Granite Creek Trailhead and continue to whatever is next on your vacation itinerary!
Packing List
Your guide & camp cook will provide all meals, snacks, tents, sleeping bags, cots, horses and fishing gear*
Please bring the following personal items in a duffle bag with a total weight of no more than 20 pounds
Long pants & closed toe shoes (required for riding)

Rain gear

Loafing shoes for around camp

Hat and/or sun glasses

Warm coat and jacket; dress in layers (early morning and evening temperatures often dip into the 40's)

Change of clothing (including 2-3 extra pairs of socks)

Personal toiletry items, chap-stick, aspirin/medication, sunscreen, bug spray, washcloth, etc.

2 water bottles (at least 32 oz)

Swimming suit & lightweight towel

Camera (or phone for taking pictures; note that cellular service is mostly unavailable)
*If you prefer to bring your own sleeping bag & pillow, please let us know ahead of time. If you plan to fish, a Wyoming fishing license is required and may be purchased at various retail stores in town or online at https://wgfd.wyo.gov/apply-or-buy
Meet Your Camp Cook
For the past 20 years, Barry has been serving up authentic Western-style meals, all prepared on-site in his wilderness kitchen. If anyone in your party has special dietary needs, please let us know at least a week in advance and Barry will be sure to accommodate!